Five YA releases to look out for this August
Whoop! Today on the blog I've got a guest post from one of my absolute favourite bookstagrammers - Meredith Mara - who is here to share some of the most epic reads we can look forward to being released this month.
Make sure you head on over to Meredith's instagram account and check out her awesome posts, beautiful photos, epic reviews and warm and chatty story posts - you're in for a treat.


Books we can't wait to get our hands on this month!
Bookies, the YA universe is scorching with some incredible releases this month. And since we're not all swimming in coins like Scrooge McDuck, we've made finding your perfect August read (at least a little bit) easier for you.
If you're looking for super antiheroes
The queen of sizzling YA fantasy is back with a superhero fantasy. Taking on the third of four planned instalments in the DC Icons series, author Sarah J Mass brings us Catwoman: Soulstealer.
Selina Kyle is not your average heroine. Scratch that, she's no heroine at all.
After being trained by the infamous League of Assassins, Selina Kyle—cover identity: billionaire socialite Holly Vanderhees—has returned to Gotham City for one thing, and one thing alone, to wreak havoc on the city during Batman's absence.

Having shed all vestiges of her former self, she is now the newly minted Catwoman, soon to become Queen of the Underworld.
But Catwoman is not entirely bad either or, at least, she's not entirely un-relatable.
There's a reason behind her descent into the underworld, and that's what we love about our antiheroes don't we? Moral ambiguity. Because when, really, is the world ever black and white.
What's more to love about this read? Racial and sexual diversity. And guest stars, Poison Ivy and Harley Quinn, whom Catwoman teams up with to fight Batwing (aka Luke Fox, who's battling to hold the fort in Batman's absence).
If you're searching for a witty contemporary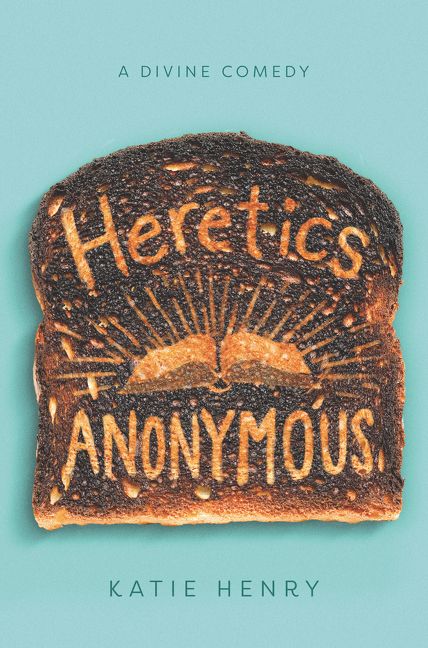 Get ready. Get set. Go. For Heretics Anonymous. Author Katie Henry's debut.
Michael's dad has moved the family, yet again. What's worse, this time the school change comes with a plaid tie as Michael's been enrolled in the strict catholic school, St. Clare's.
Slight problem. Michael's an atheist.
Luckily for Michael—there's Lucy. Who's outspoken challenge of the church can only mean one thing, right? She's a fellow atheist. Ahem, not even close.

Sorry, Michael. Lucy's actually set on becoming a priest. But, you know, beggars can't be… yeah, well, you know what I mean, and at least Michael's not the only one who rubs school policy the wrong way. Actually, there's a whole group of school outcasts.
*whispers* …a secret society, a group of self-proclaimed heretics.
What's to love about this read? Heretics Anonymous is like the non-stereotypical multi-ethical version of the Breakfast Club—I know, I'm excited too!

You've got the atheist. The outspoken feminist set on reforming the church. The gay, semi-observant Jew. The Irish-rooted pagan. And the Korean-American Unitarian Universalist. Who band together to expose the St. Clare's hypocrisy.
Oh, and one more thing DON'T YOU… FORGET to pick up this read.
If you've got sci-fi on your mind
Looking to cool off with some sci-fi fantasy with a hint of romance? Of course, you do. And The Raging Ones by Krista and Becca Ritchie has got you covered.
Set in a freezing world, scientists have discovered how to calculate each person's death day. And depending on that deathday, life is organised. Live long?
You'll be afforded affluence and opportunity. Die young? Prepare to be stuck with the sucky jobs. Sounds swell.
The thing is, come her death day, Franny Bluecastle does one thing very spectacularly—she does not die. And in her complete un-deadness, Franny connects (connects meaning the ability to experience each other's feelings) to two other teens, Court and Mykal, who have equally outlived their respective deathdays.
Problem: in a world where you're supposed to die when you're supposed to die, no one is particularly thrilled—I mean, except the survivors, obviously—if you live past your best-before-date.
And if they want to keep staying alive, Franny, Court, and Mykal have only one chance, they must escape their world (Saltare 3) by gaining a spot on the newest space mission. Saga 5.
What's to love here? The Raging Ones promises intricate world building, addictive storytelling, unlikeable yet totally obsession-worthy characters we come to care about, and many an unexpected twist. And don't we love all that.
If you're looking for a new fantasy series
Mary E Pearson's Remnant Chronicles series had me hooked from the first to last page, shipping character romances and delighting in all the court intrigue.
Set in the same fantasy world as the Remnant Chronicles, Dance of Thieves begins six years after the events in Heart of Betrayal (and, yes, for all those wondering, Lia is the Queen of Venda).
The main character here are Kazi (former-street thief, now a soldier of the Queen of Venda) and Jase (leader of a powerful yet politically unrecognised territory).
Kazi (among five others) is sent to infiltrate Jase's territory (Tor's Watch) to hunt down a war criminal said to hide out there and bring the traitor back to Venda. Circumstances land Kazi and Jase in a puddle of trouble and bring these two together.
And they proceed to lie to each other, constantly. I'm sold!
What's to love? Star-crossed romance that unfolds against the backdrop of warring kingdoms and political intrigue. Crossovers from some of our favourite Remnant Chronicles characters. And if you loved the Remnant Chronicles, chances are good you'll love this one.
If all you need is… a heart-breaking contemporary
Life can be horrible in all its unsugarcoated reality, but as Darius the Great Is Not Okay by Adib Khorram shows us, miracles often appear when and where we least expect them.
As the title suggests Darius is not okay. His nerdy-ness makes him the target of bullies at his Portland, Oregon, high school. He suffers from clinical depression. And his dad is perpetually disappointed in him.
Phew, that's a lot of bad. And pretty relatable to anyone who's ever felt not quite good enough.
*raises her hand* Oh, we're not doing that? Okay, moving on.
When Darius' grandfather's deteriorating health, takes Darius—who's Iranian on his mom's side—and his family to Iran, Darius has little hope that he'll fare much better in a country he's never visited. Especially since he speaks better Klingon than Farsi.
What you'll love? This brilliant debut immerses your senses in the Iranian traditions, foods, and landscapes. Our main man here is bi-racial, gay, and socially awkward, with frizzy hair and a few extra pounds, yet is unapologetically himself. Love is a central theme—but, refreshingly, there's nothing romantic about it.